Diamond Red Light Therapy Wand - Grey
Regular price
£ 69.00 GBP
Regular price
£ 140.00 GBP
Sale price
£ 69.00 GBP
Unit price
per
Sale
Sold out
Red Light Therapy revitalizes the skin for more vibrant appearance.
Microcurrent Treatment stimulates processess preventing ageing.
Vibrating Massage helps to reduce puffiness and relax muscles.
Warming Effect tackles inflammation and improves the radiance of the skin.
Negative Ion Activation promotes a better absorption of skincare products.
Description

Enjoy the benefits of red light therapy at home.

With Diamond Red Light Wand you can reduce the appearance of wrinkles, fine lines, dark circles, blemishes, and dark spots.

Daily 5-minute treatments will help to de-puff and energise the skin in just 2-3 weeks.

This revolutionary device promotes healthier skin and reduces wrinkles, inflammation, and redness. It also effectively tackles the signs of ageing.

The wand works by emitting nano waves that penetrate the upper layer of your skin and stimulate collagen production.

With regular use, you'll watch as your skin tone and texture improves, giving you a youthful glow.

Get the benefits of red light therapy in a few minutes each day - it's that simple!
How To Use

1. Cleanse your skin: Before using the red light therapy wand, make sure to cleanse your skin thoroughly to remove any makeup, dirt, or oil.


2. Apply the wand: Turn on the wand and slowly move it over your face, focusing on areas that need the most treatment. Use for a recommended time, usually around 5-15 minutes.


3. Finish with moisturizer: After using the wand, turn it off and apply a moisturizer to hydrate your skin. Use the wand as often as recommended, typically 2-3 times a week for best results.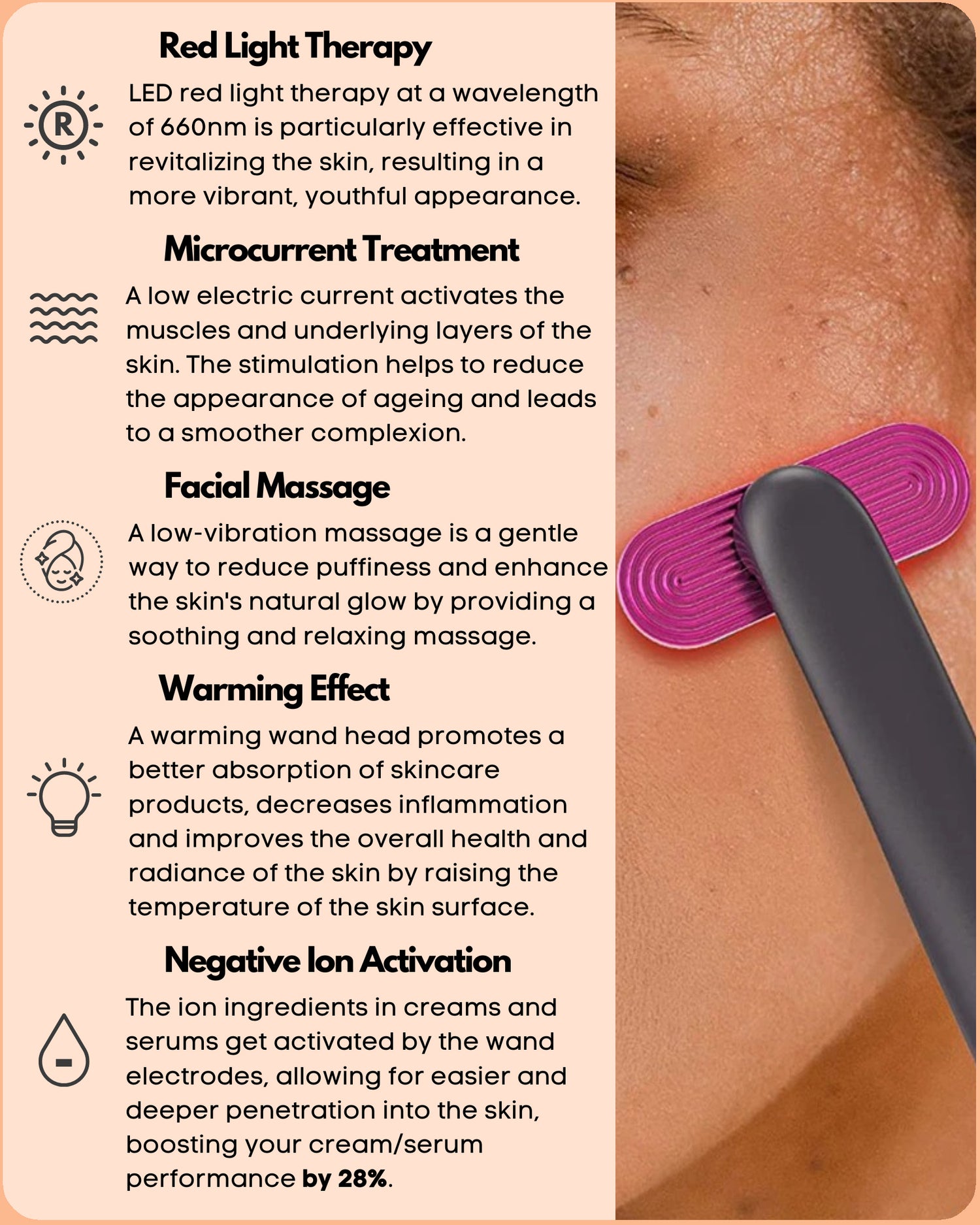 Level up your skincare routine with just one tool.
Designed to be a one-stop solution for all your skincare needs, it combines the benefits of red light therapy, microcurrent, low-vibration massage, and a warming wand head, all in one device.
As a result, it can help to reduce the appearance of fine lines and wrinkles, improve skin elasticity, reduce puffiness, boost the skin's natural radiance, and promote better absorption of skincare products.
Before & After
Let the results speak for themselves.
Collapsible content
Is it safe to use?

Generally, it's safe to use Diamond Red Light Therapy Wand on your face and neck, but you should avoid using the product or consult with your doctor prior to use if you have the following: cancer, permanent skin conditions such as psoriasis or any other form of skin eruptions, pregnancy, cardiac pacemaker or any other electronic implants. You also should refrain from using the product if you have been diagnosed with heart problems or if you suspect you may have heart problems.
What's included?

1 x Diamond Red Light Therapy Wand

1 x Instruction Manual

1 x Charging Cable

1 x Charging Dock Station
Does it hurt?

Not at all! The treatment is designed to be pain-free and most customers even find it quite pleasant.
How soon should I expect results?

This depends on many factors such as skin type and condition and what goal you are working towards. For treating minor issues such as inflammation it can take as little as 2-3 weeks of daily use. For more complex issues such as anti-ageing or scar treatment, it may take 1-3 months of use. Although, this will depend on the individual and you may carry on with the treatment until fully satisfied with the results.
OVER 55,000 HAPPY CUSTOMERS!
We are extremely proud over 55,000 customers from all over the world have trusted us with their business and love our products. We strive to maintain a high level of customer care and are always available to help.
EXPRESS WORLDWIDE SHIPPING

SECURE SSL PROTECTED CHECKOUT

HIGH RATE OF CUSTOMER SATISFACTION

ATTENTIVE CUSTOMER SUPPORT TEAM